北京时间7月21日,体验管理(Experience Management,XM)领导厂商Qualtrics宣布收购客户旅程编排(Customer Journey Orchestration,CJO)平台Usermind。双方已经就此次收购发表了官方申明,但没有公布具体的交易价格和方式。
Qualtrics对于国内很多客户体验管理领域的从业者并不陌生,它于2003年由Smith父子三人在美国内华达创立。在成立之初的相当长的时间主要为专业研究人员提供在线调查SaaS平台服务,2017年开始基于调查平台转向提供2B的体验管理服务,并获得巨大成功。
2018年12月,在Qualtrics准备IPO的前夕,软件巨头SAP以80亿美元的现金收购Qualtrics全部股权,震惊整个科技界,并让Qualtrics名声大噪,成为史上最贵的SaaS平台。时任SAP董事长Bill McDermott更是宣称:"以Qualtrics为代表的体验管理软件是企业管理软件的终极品类","Qualtrics是SAP皇冠上的一个明珠",并提出了"X-data"+"O-data"的体验管理模式。
然而,由于本次交易在SAP内部存在巨大争议,收购完成后不久Bill McDermott就离开了SAP。2020年,SAP将Qualtrics再次剥离出来,并于2021年1月在纳斯达克上市,目前市值约为200亿美金,也是全球市值最高的体验管理平台厂商。
Usermind 成立于 2013 年,累计融资为6000万美元,最近一次是2021年的1400万美元。目前员工人数只有大约50名,与拥有3300多名员工的Qualtrics相比,是一个非常小的初创公司,但它目前是客户旅程编排领域的领导者。根据2020年Forrester WAVE评估报告,Usermind和Kitewheel、Thunderhead、Pointillist等知名客户旅程编排厂商一起,处在这一领域的第一阵营,明显领先于其他厂商。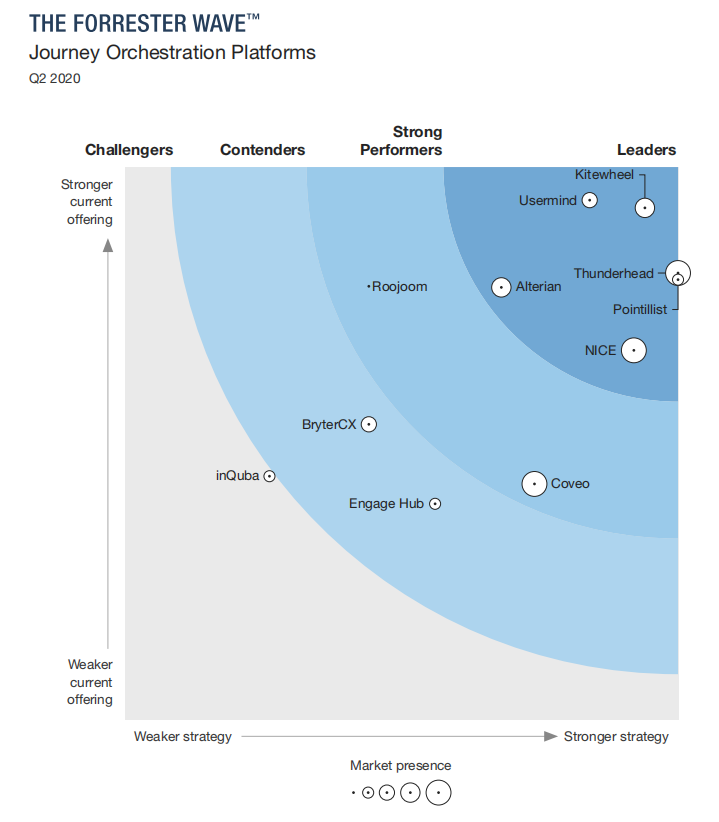 虽然Qualtrics现在是体验管理领域的巨头,但是在2019年UXTOOLS的专题研究报告中就指出过:Qualtrics最大的短板,在于它只是一个体验研究和测量平台,虽然拥有强大的分析和洞察能力,但是并不具备直接提供交互和体验的能力,而这恰恰是未来体验类平台的核心能力。
图:Qualtrics XM体验管理平台研究报告结论
可能也正是由于这个原因,SAP在全资收购Qualtrics两年后,将Qualtrics再次剥离了出来,但随后又很快收购了另外一家个性化体验营销平台——Emasys。而Usermind和Emarsys一样,它们侧重的是直接向客户提供交互,是客户体验的直接生产和交付工具,而不是像Qualtrics一样只是一个体验的观察者、测量者、决策支持者。
正是由于受到Qualtrics的启发,自2018年开始,国内出现了一批以Qualtrics为标杆的体验管理平台厂商,并掀起了国内在客户体验管理(CEM)领域的创业和投资热潮。2020年,由于疫情导致的数字化加速,更是为数字化体验管理平台的发展注入一针强心剂。
但自2018年直到今天收购Usermind,Qualtrics走过的路可能并不一定适合国内的体验管理平台。在更注重实效和速度的中国,像Qualtrics那样将洞察和测量作为切入点,是对市场的一个巨大挑战,而且大多数国内平台也并不具备Qualtrics在研究领域长达15年深厚的技术和专业积累。
所以,一直以来UXTOOLS的一个观点是:如果抱着以终为始的思路,将Qualtrics的历程反过来做也许是一个更适合中国的做法。也许,从直接提供体验的功能入手,提供更加场景化、赋能型的行动平台(类似Usermind),再逐步拓展到研究和洞察的基础领域,是一个更现实合理的道路。
附1:Qualtrics关于收购Usermind的申明
Qualtrics Acquires Usermind, a Next-Generation Experience Orchestration Platform
Today, we're excited to share that we have acquired Usermind
Usermind captures and analyzes contextual data at every touchpoint of the customer journey— from website visits and support calls to purchase history and communications preferences—enabling companies to deliver highly personalized experiences across any channel and reduce points of friction in real-time. The result is accelerated customer acquisition, and higher retention, engagement, and customer lifetime value.
Our research shows that more than 60% of consumers are likely to switch brands after just a single poor experience. This means that organizations only have one chance to get the experience right. In a world where switching costs have never been lower, customers have already moved on by the time you notice they're gone.
Instead of fixing broken experiences after they happen, companies need a way to manage them in real-time. This is why over 13,500 organizations use Qualtrics for experience management – to understand the feelings and expectations of their customers and employees, analyze this experience data, and take action to continuously improve the experiences they deliver.
To design incredible experiences, organizations have to orchestrate the right customer journeys.
Every experience a customer or employee has with a company is part of a larger journey. Journeys are also how people experience an organization's product or service, and how they experience an organization's brand come to life. Every business outcome—good or bad—is driven by a journey.
As soon as a customer interacts with an organization–steps foot in a store, lands on their homepage, or calls customer service–they are on a journey. For example, once a customer downloads a new banking app, the organization's goal is to have the customer deposit funds into their bank account. But oftentimes a customer might stop just one or two steps into that journey.
Organizations need to answer: why did they stop there? Was there a bug with the app, or was it something else? Was the customer's goal the same as my goal? How can we better optimize this journey and better engage other customers in their journeys?
Organizations need contextual data to answer these questions in order to proactively prevent poor experiences.
This is why we're excited for Usermind to join the Qualtrics family. Usermind was named a Leader in The Forrester Wave: Journey Orchestration Platforms, Q2 2020 report, receiving the highest score in the Current Offering category. They're transforming the way companies can use contextual data to actively shape experiences in real-time.
Usermind will strengthen the Qualtrics XM Directory, the largest human sentiment database with over 4B customer and employee profiles, by bringing in contextual data from any source to create richer customer profiles that include every interaction a customer or employee has with a brand and all of the feedback they've provided over time.
Now, organizations will be able to bring this experience and contextual data together with operational data, such as customer demographics or sales history, analyze it, and automatically take action to shape journeys in real-time and deliver personalized experiences for customers and employees at every touchpoint.
We're excited to welcome such a talented and innovative team to Qualtrics, and one who also shares many of our same core values as a company. Read more from Usermind here.
附2:Usermind关于被Qualtrics收购的申明
Qualtrics Acquires Usermind: Bringing Experience Orchestration to Experience Management
I'm excited to share that today, Qualtrics has acquired Usermind. 
We couldn't have achieved this amazing milestone without our visionary customers and courageous partners. This moment is a testament to a community of risk-takers and glass-breakers and to the power of endless hours of product feedback.
As I reflect on the days, months and years that led us to this moment, I want to acknowledge the things that brought us here:
We started as two founders with no CX or marketing experience who were hungry for and inspired by over 200+ customer interviews to take a leap of faith. We found early adopters passionate about optimizing their customers' journeys and determined to break-down their technology silos in service of driving better business outcomes. We helped build a new category and were recognized by Forrester as a clear Leader in the Journey Orchestration market with the only perfect score in JO among our competitors.
And for all of that, we are proud.
2020 - a Black Swan, COVID, a year movie nightmares became a thing of reality. Safety drove us all home and safety considerations catalyzed a once in a lifetime shift from physical to digital interactions. Grocery shopping became Instacart and Prime delivery, in branch deposits became check uploads on mobile and call center agents were caught in the crossfire. 
5-year plans became 5-month plans. Digital went from a way to stand out to the only way to survive. Monitoring customer satisfaction in every moment, in every channel  went from a best practice to a mission-critical capability as businesses innovated digitally to survive. CX and DX became one. Every change demanded a ROI measurable in business value - increased conversions, decreased churn, LTV etc….
And there is no turning back. Going forward, understanding and monitoring customer journeys across channels in real-time is table stakes. Being able to marry experience and operational data in a journey context is table-stakes. 
The combined CX+DX team is asking for an integrated control plane or OS to manage experience from design to delivery to operations and optimization. This vision is bigger than our original JO vision and requires a re-thinking of strategy to deliver it.
We started Usermind because we believe companies should know exactly where customers are in their journey, know when things go wrong, and be able to proactively guide customers to the best experience possible. We built the first real-time Experience Orchestration (XO) Platform to make this possible for even the biggest companies with the most complex and heterogeneous  technology.
Qualtrics is a company synonymous with designing and improving all aspects of experience: customer, employee, product, and brand. A market research company in its early days, they foresaw the need for a single platform to manage these four core experiences, and pioneered the Experience Management (XM) category. Today, they are the #1 experience management provider, enabling companies to capture, analyze, and act on customer and employee feedback in real time. They empower companies to design and continuously improve the customer and employee experiences that drive engagement, prevent churn, grow revenue, and build relevance. Along the way they also stood up the Qualtrics XM Institute – to marry best-in-class software with the resources, methodology, and XM community and show the world how to embed XM across their companies and connect their XM programs to the top and bottom line. Today, they're continuing to push the limit with their XM platform and deep operational use cases.
In tandem, Usermind's XO Platform is recognized by Forrester as a Leader and the highest rated Current Offering in the Forrester Wave: Journey Orchestration Platforms, Q2 2020. We work with some of the largest companies across the globe to help them understand and improve customer journey and digital transformation initiatives. 
We believe combining the best-in-class XM platform with the best-in-class XO platform will unlock new possibilities for CX and Digital teams working together to create and deliver great  experiences that power the business. After all X+O= E>!
A Shared Culture & Values
As I spent more time getting to know the team and broader organization at Qualtrics, I became convinced that we had found a perfect match not just strategically but also culturally. Both companies possess a burning desire to innovate in their space and be successful. Both of us are customer-obsessed. Both of us have transparent cultures that prize radical candor. And, despite the size difference, both of us prize scrappiness and grit as an ethos. Qualtrics calls this TACOS — Transparent. All In. Customer Obsessed. One Team. Scrappy. 
Last but not least, Qualtrics is co-headquartered in and committed to Seattle - the place Usermind calls home. Like us, they believe that building legendary software companies outside of Silicon Valley is essential to spread economic opportunity more broadly across the U.S. 
I could not be more excited about the future. It's 100% clear to me that we can exponentially accelerate the impact of Usermind as a part of Qualtrics. Joining Qualtrics provides the opportunity to bring Journey Orchestration & Journey Analytics to the masses. 
I look forward to bringing JO and its discipline to Qualtrics, writing the book on Journey Orchestration, and creating a robust ecosystem of organizations and partners to build upon the foundation of Usermind and the great product we'll inevitably build together.
Go Usermind! And now onward. Go Qualtrics!